Training and employment : one of French overseas' answers to social issues
Created in 1961 and composed of seven overseas units (one in each of the 5 DOM-TOM, one in French Polynesia, one in New-Caledonia) and a welcoming pole in Périgueux, the SMA, since the abolition of the French military service, provides help for the young ultramarines who face difficulties in building their future.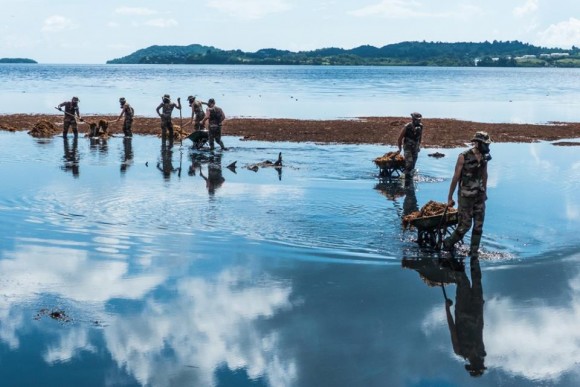 Training them through a military discipline,the SMA helps young people (under a volunteer contract) to acquire social and professional skills that would allow them, when finishing their training, to become an effective workforce or to follow an other educational programme.
The SMA also welcomes « technical volunteers » who already have a professional experience, to held supply or monitoring positions among the SMA. In 2015, the SMA gathered 5847 volunteers of whom 4600 can be categorized as "drop-outs". But for SMA, they are considered as "returners".

A branch of the Ministry of Overseas and ruled by the 138th programme called "overseas employment", the SMA's achievements depends on its capacity to insert the volunteers it enrolled. The insertion rate in 2016 was above 77%.
How does the "SMA" work ?
This percentage is to be measured in regards of the 38% illiterate candidates (level 1 and 2 according to National standards) and 56% of the young people who left education without graduating in technological or professionnal fields.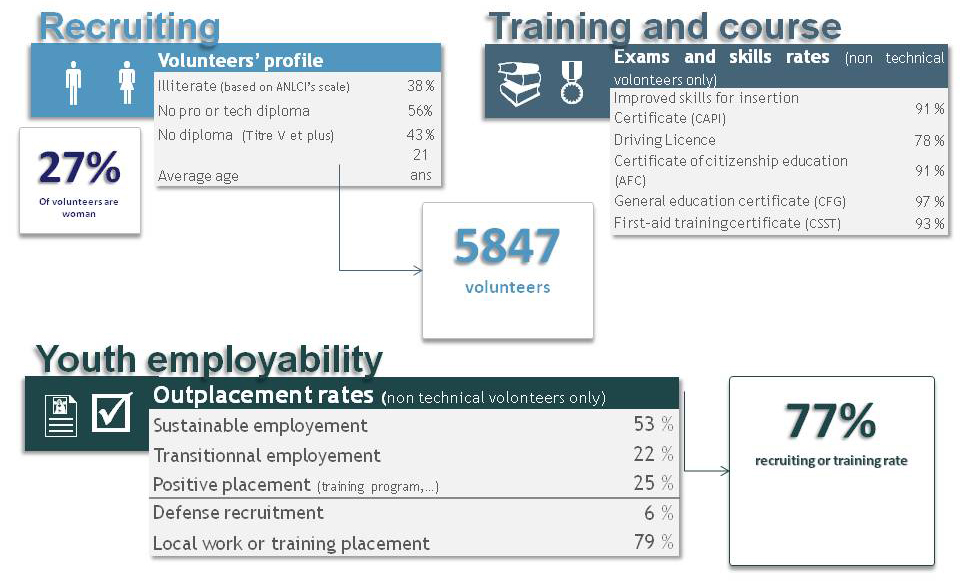 In fact, providing training for more than 50 jobs through 8 different professionnal fields, the SMA delivers at the end of the internship a Certificate of Professionnal Fitness (CAPI), an official document from the Ministry of Overseas attesting to the successful knowledge in 4 areas:
Certificate of Citizenship Education
Certificate of Professional Proficiency (recognized by the Ministry of Employment and delivered for a minimum of 800 hours of professional training)
General Certificate (given by the Ministry of Education Nationale)
First Aid Certificate.
The Young people are also supposed to leave the SMA Programme with their Driving License.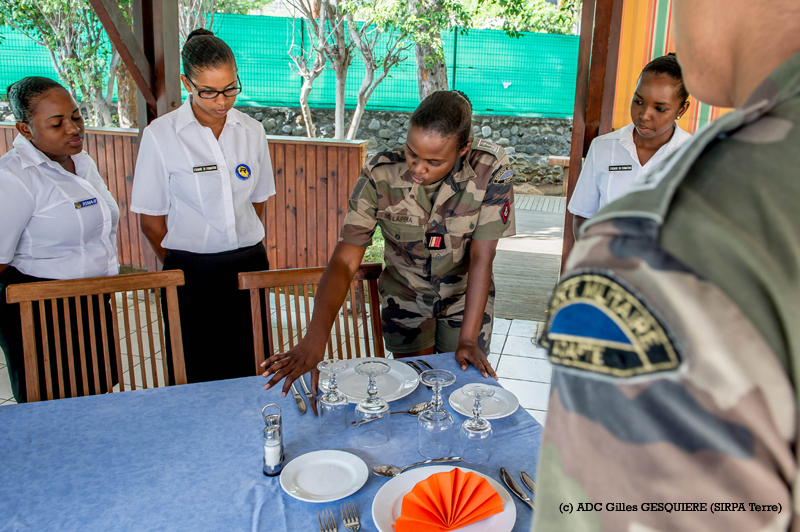 Realistic goals and perspectives

On request of the President of the French Republic in 2009, the SMA will double the number of internships it offers at the end of 2017.

After a six years strenghtening investments policy, the 2016 budget of SMA was around 63 millions €, excluding payroll costs.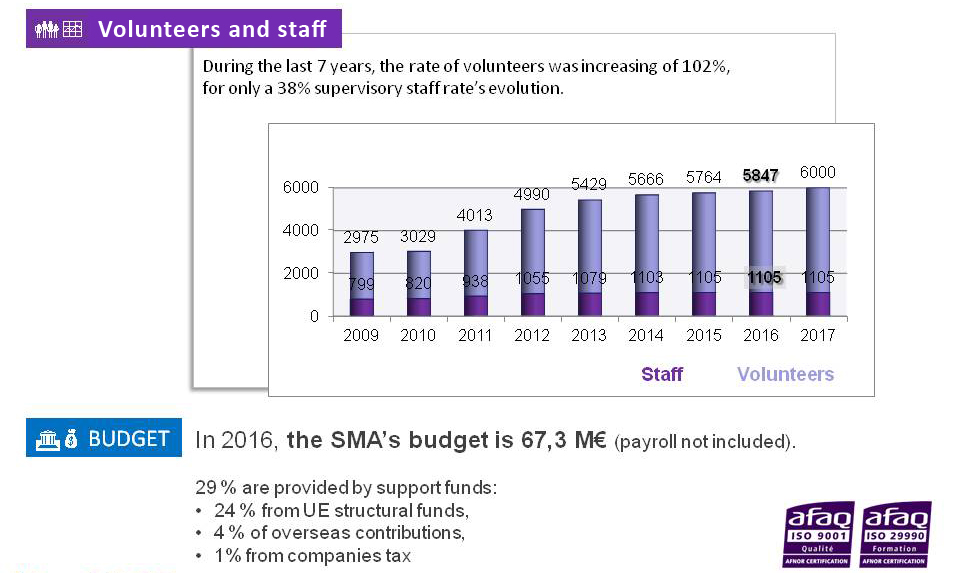 While no brand new schemes will be created, some local partnerships are now effective to welcome Young people from Saint-Martin's Island in the SMA Guadeloupe center and ones from Wallis and Futuna could follow training in the French Polynesia et New Caledonia centers.
Lastly, the SMA takes pride in providing its forces to States representatives, under the guise of the COMSUP, to manage crisis situations : fire and flood prevention, health assistance, aid to people,...

But at the end of it all, what makes the SMA the proudest is in its baseline : "our victory : their success "